Your relationship had a pretty rocky start ... He was married when you met him and you both fell in love and got together
You went to jail and he went back to his wife – and started a family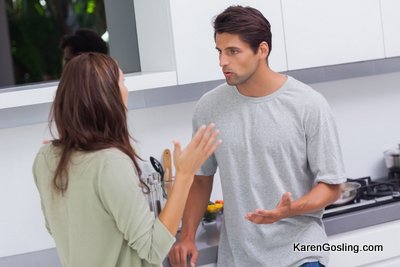 You discovered this when you got out of jail, and decently "let him go" to be with his wife and child. Now you're wondering, "Why does he not trust me?"
You continued dating but kept comparing new partners with the love of your life that you had set free. You were still grieving the loss of him and the future you had at one time dreamed of having with him. That's normal.
Other things happened in your life which were traumatic and you experienced a lot more grief.
Then he came back and you resumed a relationship – but more than three years had passed and already there was a loss of trust in your relationship, and each of you had been with other partners in the meantime. 
You're wondering, why does he not trust me?
No sooner than you tried to start again, he cheated on you and you effectively "cheated" on him by keeping someone on the back burner in case it happened again. Again, a normal reaction because you didn't want to have to experience any more loss or grief – you'd had enough already.
So it's difficult for each of you to totally trust the other because each of you has been unfaithful to the other. Both of you has some hard evidence that since you got together the second time, each of you has suffered feelings of betrayal, which are pretty painful and intense feelings. 
Betrayal and deception
Once there has been betrayal and deception (these are different – one is breaking a commitment and the other is telling a lie), a person does stay leery or wary. You remain constantly cautious and unsure of whether you can trust your partner again – and EACH of you is going through this! Ironically, if you have been unfaithful yourself, you tend to think that other people will be unfaithful too.
I think this is what is happening with your partner. He knows you kept someone quietly on the back burner, and he knows how easy it is to cheat on your partner (he has done it himself, after all!). Therefore he remains on alert (overly suspicious) and on the lookout for any sign that his suspicion is correct.
Suspicion is fear
Suspicion breeds anxiety and resentment. Not because anything is going on, but because when you constantly think about a "What If" scenario, it becomes real in your mind. And once the image is in your mind, your body produces the stress chemical associated with threat (adrenalin and cortisol) which courses through your blood stream – and gives you a ghastly anxious feeling! That feeling is REAL because it is a chemical released into the body due to the biology of the brain.
This is what is happening with your partner. He gets an image in his mind that makes him feel dreadful – which is the response to the fairy-tale of threat in his mind, if you like. However, because he really feels that stress reaction, it makes him think the image or event is real. And he is blaming you for him having the feeling.
Isn't that crazy? You are not doing anything wrong, yet he gets the anxious feeling because of something he is imagining in his brain. And then it's your fault!
Do you know that this scenario is quite common in relationships – you are not alone. A person gets a bad feeling then blames someone else for that feeling. Basically, they are giving the responsibility of their feelings to that someone else. They don't realise the feeling is theirs and theirs alone because of something the brain has interpreted – but they think you have to act differently, or apologise for being you, in order for them to feel better.
Well, I have seen this played out many times in counselling, and I can tell you, if you wait for someone to change their behaviour so you will feel better, you may be waiting a very long time.
To you I would say:
Stay true to your commitment even when the going gets a bit tough. Rather than focus on the question, "Why does he not trust me", to have your partner trust you, you yourself must be trustworthy – that is, become entitled to having his trust and respect. Don't cheat on him because you are fed up or lonely.
To your partner I would say two things:
Don't wait for someone else to make you happy or give you a good feeling. Think about things differently, or from a different perspective, so you can make yourself feel better (we call this self-soothing and is a life skill we teach infants).
He has to make a decision to trust you, and keep telling himself you are a trustworthy person, every time there is a jab of suspicion is felt in his body. That jab is real and it hurts, but he must repeat to himself that the situation causing the jab of pain is in his mind and is not a real situation.