Do you object to your man squeezing your boobs from behind? Have you felt kind of manhandled? Have you told him to "STOP groping me!"
Is it appropriate to put up with your husband's inappropriate behavior because it's the only way you can get a hug or kiss from him?
Pat would often come up behind Bev whilst she was working in the kitchen and give her a big hug from behind and reach around and squeeze her boobs. Bev thought she was meant to enjoy this affection from Pat, but actually she was irritated by it. Especially when she was in the middle of preparing dinner and her mind was a long way from sexual activity. But she never told him, "Stop groping me!"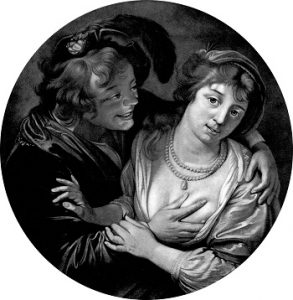 She never said anything to Pat, as she didn't want to offend him or deter him from displaying his affection. She just didn't like it at the particular time. She didn't know how to handle these situations. She also didn't understand why she didn't like him doing this.
Bev would think to herself, "Why doesn't he caress me and be tender with me when we're in private, instead of coming up and grabbing my boobs in the kitchen, even in front of the kids? That doesn't feel like love to me. I don't go up to him and touch his manhood unless we're alone. I wish he'd respect me more like I respect him."
Pat would be confused when Bev did not respond and it seemed like she was giving him the 'cold shoulder'. His expectation was that she would want him to show his love for her and her body in this way and would respond positively to his expression of love. He often felt let down when she didn't respond at all and this would affect his mood for the remainder of the evening.
Pat thought it was almost as if Bev thought that he wanted her to drop what she was doing and have sex with him right away. But this was not Pat's intention. He was simply showing her that he loved her in his own (male) way. In fact, he wished that Bev would touch his genitals (without there being sex) so that he knew she loved him.
Finding out more about the great divide between men and women when it comes to direct touch is one of the most important steps in rebuilding your relationship.
When you're trying to fix your relationship but your emotions are out of control, you will always end up fighting. It's time to get some professional help.
You can change this today.
I can help you to:
Grow your emotional skills – emotional skills are far more important than any functional skill in achieving a high level of peace and calm within oneself.
Know your emotional style – your emotional style effects how you react in emotional situations.
Understand your emotional brain – learn how your brain effects your personal emotions.
—— A GREAT MARRIAGE STARTS WITH YOU ——