Stress symptoms checklist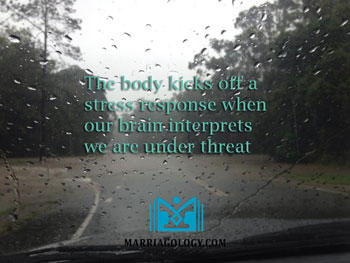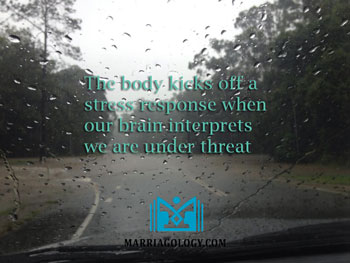 Do you know when you feel stressed? Can you identify whereabouts in your body you feel your stress? 
Some people feel it in their chest first, or their neck and shoulders. 
Others get tightness in their head, which fast becomes a headache. 
Or another person may feel their heart start to palpitate resulting in a "buzzy" type of feeling. (A lady once came to see me because she thought she had MS – but it was stress! And her response was, "Well, I'm fed up with being stressed"!)
Stress is the sensation our body has when it is aroused with adrenalin, produced by the adrenal glands on top of the kidneys, when your brain interprets that there is danger in your environment. It may be an external threat (for example, someone is using a raised voice) or internal (you have an unexplained lump in your armpit).
These feelings are real, and they are unpleasant. The adrenalin is our fear chemical, designed to keep us on alert until the danger passes.
The body kicks off a stress response when our brain interprets we are under threat
Most people will understand about adrenalin at times of "explainable" stress – for example, being caught up in a tornado, or having a motor accident. But too often, we cause our own stress because of our thoughts. Can you believe it? We can think our way to every symptom on the stress checklist!
Here's how it works. The fear center of your brain (the Amygdala) has the job of appraising absolutely everything in your environment for danger. Both external and internal stimuli.
The body kicks of the stress response (adrenalin) if there is even a HINT of danger, before the cortex (the thinking part of the brain) can determine that there is actually no danger at all. This is what we know as the preservation instinct. We see it in animals as well.
Once the cortex reappraises that there is no danger, it sends a message to stop the adrenalin.
At this point, the body has a chance to calm down. And the nervous arousal disappears.
But imagine if the "danger" is the memory of the horrible argument you had with your spouse last night? The memory triggers the adrenalin, and you feel the adrenalin (the worked up feeling) and you give it a word, to describe how you feel (I feel upset).
The brain now stays on alert for danger, so keeps you thinking about the argument. That is the "threat" of the moment, and the brain recognizes adrenalin in the body as the fear chemical. Gotta stay on guard!
So you keep thinking about the argument. And as you do, the adrenalin to the perceived "threat" increases. The nervous arousal gets bigger, and now you have a more intense word to describe how you feel. (Now you feel devastated.)
We are able to think our way to every symptom on the stress checklist!
As stress increases, you may feel nauseous or have an upset stomach. Your appetite is often disturbed. Sweating, tremors of the lips or hands, and dizziness is also common. You may experience chest pain or heart palpitations. Headaches and muscle aches are common. Typically you will experience disturbed sleep, often going to bed fatigued but waking at about 2-3 am, unable to get back to sleep.
You're not meant to sleep with adrenalin in your body – you are meant to be on "guard duty"!
Your brain may feel like mashed potato, and you will find it difficult to concentrate and to make decisions. You may have memory problems, and be unable to find words at the end of a sentence. You are often irritable and snappy with others, even when they try to help.
Emotionally, you will feel more anxious about everything (due to the increased fear chemical in your body) and guilty, often filled with regrets. You worry about others, but tend to isolate yourself from people. This confuses you because at the same time, you yourself feel alone and abandoned.
If you are fed up with being stressed, and if you recognize several of the symptoms on the Stress Symptoms Checklist, then make an appointment with Karen Gosling today.
—— A GREAT MARRIAGE STARTS WITH YOU ——