Helps You Normalise Your Pain When You Feel Nothing Will Be Normal Again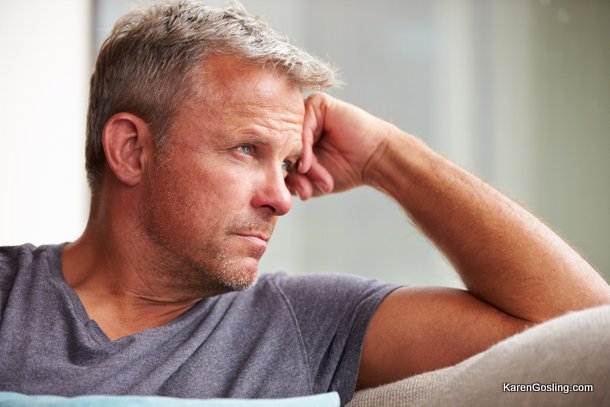 Grief Counselling helps when the experience of grief may last weeks or a few months and often longer, depending on the experience of the loss.
You have experienced the loss of a significant loved one or of something that was very important to you.  Even though the death or loss may have been anticipated and expected, nothing really prepares you for the strong emotional or physical reactions that may now at times overwhelm you. Grief Counselling will normalise your grief reactions and encourage you to talk about the person you are missing and what he or she meant to you.
It is very common for people to seemingly cope quite well immediately after the death of partner or loved one.  It is though they operate on "automatic pilot" for the days preceding and after the funeral.
If this is you, others may even comment how well you are "dealing with" the loss or "coping".  You yourself may even be surprised, perhaps even guilty, that you are not more upset than you are.  You wonder if this means that you did not really love the deceased, or perhaps you have been anticipating the death so long that you are already "done" with the grieving.  Whilst this may be true, and anticipatory grief can indeed occur, it is probably more that you are numb and feeling a bit "outside yourself" during the early days and weeks after the death.  The body goes into shock, and the real sense of "missing him" has not even started yet.  Many of the people who are there to support you in the first few weeks, now wander back to the busy-ness of their own lives, believing that the worst for you is over.  It isn't.
Grief Counselling explains that grief typically starts when the numbness wears off, and this can be four to five weeks following the death.  And the pain of grief is very real – it is very physical.  You are likely to feel an ache in behind your heart – it really does feel like a broken heart.  (The body produces stress chemicals which constrict the heart muscle as part of the stress response.)
Initially the pain is constant as the knowledge of the death/loss consumes you.
Then you start to notice that sometimes the pain is not so intense, and it is only then you realize you have had a short period of time when you have been able to think of something else unrelated to the death.  This is normal, and does not mean that you are going to forget the one who died.  In time, the brain seems to register that life is going on, and that you are safe, and allows you to be distracted by other things.
The experience of grief may last weeks or a few months and often longer, depending on the experience of the loss.  With understanding and the support of significant others and the sharing of stories about the loved one, the grief reactions usually pass more quickly.  Talking about the one who died facilitates grief more than NOT mentioning the deceased's name and "carrying on" as if the death had not even occurred.
Occasionally the grief is so painful, however, that a person may feel immobilized or unable to function, and then professional assistance from Grief Counselling may be necessary. This does not imply that you are crazy or weak. It simply indicates that the grief is too powerful an emotion for you to manage by yourself.  The counsellor will normalize the grief reactions you may be having, and encourage you to talk about the person you are missing and what he or she meant to you. Counselling provides a safe place to talk about the things you miss – and don't miss – about your loved one.
Here are some very common signs and symptoms of a normal grief reaction:
FEELINGS
Sadness, Anger, Fear, Resentful, Guilt and Self-reproach, Anxiety, Overwhelming loss
Loneliness (Isolation), Fatigue, Disbelief, Helplessness, Life is empty
Shock, Yearning, Indifference, Emancipation, Relief, Numbness
PHYSICAL SENSATIONS
Hollowness, feel sick in the stomach, nausea
Tightness in the chest and in the throat
Over sensitivity to noise. headaches
A sense of depersonalization (being outside yourself, "watching from above" sensation)
Breathlessness, panic attacks
Weakness in the muscles, high blood pressure
Lack of energy ("can't be bothered"), lethargic
Dry mouth, more susceptible to illness
Feel as if I've been kicked in the stomach
COGNITIONS
Disbelief, Preoccupation, Confusion,
Sense of presence, How will I cope?
Hallucinations, Suicidal thoughts
Why? What will people say?
Why didn't he say something?
Nothing in my life will be perfect again
BEHAVIORS
Sleep disturbances, Appetite disturbances
Absent-minded behavior, Social withdrawal
Dreams of the deceased, Avoiding reminders
Searching, calling out, Sighing, Restless over activity
Crying, Treasuring objects, Carrying objects
Can't concentrate
You can benefit from grief counselling even if you feel you are coping OK.
Benefits from grief counselling with Karen:
| | |
| --- | --- |
| | An understanding of your physical and emotional responses |
| | Knowledge of what feelings to expect in the near future |
| | Tips on how to look after yourself at this difficult time |
| | Validation of your feelings as you process your grief |
| | Help with prioritizing your tasks and responsibilities |
| | Support for family members through information and awareness |
| | You will learn emotional knowledge, understand your emotional style, and develop your emotional intelligence to help you improve emotional well-being |
|   |   |
Grief counselling is available face-to-face in my counselling rooms in Labrador, Gold Coast or by telephone, Skype or online Zoom meetings.  In any case it may occur over several days, weeks, or months with clients, depending on the issues, and often will result in an ongoing conversation between the clients and counselor.
Learn more about how to normalize the grief reactions you may be having. Moreover, be encouraged to talk about the person you are missing and what he or she meant to you.
Click the link below and get started with your initial session with Karen.