Our system for flight or flight reactions
A 'fight person', wants to display your emotion immediately while a 'flight' person is more likely to become withdrawn, taken aback or even frozen
Have you ever wondered what's happening to your body when your heart starts beating faster, your breathing quickens and you feel warm? That's part of the fight or flight reactions common to many when faced with a threat to themselves.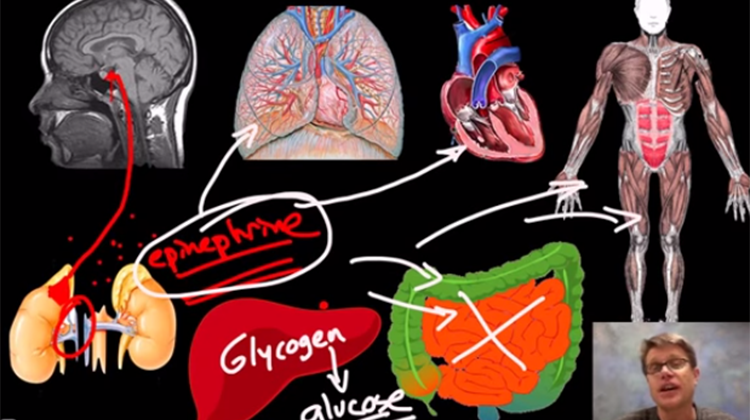 So what's going on when your nervous system and muscles instinctively respond to any physical threat to your body.
When you are a 'fight person', it does not take many surges of Adrenalin to cause you to want to display your emotion immediately. Typically, you will become irritable, frustrated or angry, or you will fight. When there is a flooding of emotion, such as in a dangerous situation, you will even clench your fist and use it to fight. We can use the analogy of a small volcano. The 'fight person' will have two or three surges of Adrenalin and will then display their emotion.
If you are a 'flight person', you are more likely to become withdrawn, taken aback or even frozen because the 'flight person' internalizes their Adrenalin and holds it within. They remain steady on the outside but are very distressed on the inside – this is not necessarily visible to others.
Paul Andersen explains how epinephrine is responsible for changes in chemistry of our body associated with the fight or flight reactions in his video below. This is centered around the brain. Epinephrine (adrenalin) released by the adrenal medulla, in response to the hypothalamus, are received by a number of organs associated with the sympathetic nervous system, whose general action is to mobilize the body's nervous system fight-or-flight response. Adrenalin is a chemical signal that is attached to the circulatory system, which will course through the body.
Knowing how to manage your fight or flight reactions is one of the most important steps in rebuilding your relationship.
When you're trying to fix your relationship but your emotions are out of control, you will always end up fighting. It's time to get some professional help.
You can change this today.
I can help you to:
Grow your emotional skills – emotional skills are far more important than any functional skill in achieving a high level of peace and calm within oneself.
Know your emotional style – your emotional style effects how you react in emotional situations.
Understand your emotional brain – learn how your brain effects your personal emotions.
—— A GREAT MARRIAGE STARTS WITH YOU ——