Do you have a voice inside you that says — "You're bored with me", "I'm not interesting" or "I always screw up" — and keeps your self-esteem low?
Having low self-esteem can distort your perception of your partner And this will have a negative impact on your relationship Rapidly…!
Mastering Self Esteem involves changing the way you interpret your life so you fulfill your true potential in life and experience joy and fulfillment in your relationships.
I use the term "lowered self-esteem" as we all have esteem, just sometimes it becomes lowered due to incorrect thinking.
People with lowered self esteem tend to have "lower quality relationships" than people with healthy self esteem. Their relationships have less love and trust, and more conflict and ambivalence.
The relationships of people with low self esteem are also less stable (i.e., they're more likely to break up). The GOAL of this seminar is to learn how to create new, positive self-statements that will foster your self-esteem instead of undermining it.
My purpose is aimed at helping you understand that as the chemistry in your brain alters, the more your self-esteem diminishes as thinking becomes irrational (you have more negative thoughts about yourself).
Sometimes people think that self-esteem and confidence are the same thing – however this is not the case. Self-esteem is your internal view of yourself. Self-confidence is having realistic confidence in one's own abilities and competencies.
Other people's esteem is the respect and honour that other people give you. You may receive other's esteem but still have low self-esteem. You may not feel yourself good enough or worthy enough on the inside, in your own internal thinking – what I call the inner voice. That's why I've put together this program… to help you Master Self Esteem!
JOIN MY CONVERSATIONS WITH KAREN LIVE SEMINAR MASTERING SELF ESTEEM
Attend this seminar to take control and consistently master self esteem to benefit you and your relationships. Lets talk about:
Identify and recognize your Inner Voice and differentiate it from your conscience
Understand and manage your emotions and the biology of self-esteem
Get great at challenging your inner voice to stop your internal judgement
Learn how to NOT take things personally to transform from a Highly Sensitive Person
Develop strategies to keep your thinking accurate – stop the power of the Inner Voice
Are you feeling ready to stop that little voice in your head? Need some strategies? I really would like to help you.
You can change the way you feel by changing the way you think. My cognitive strategies will help you master your self-esteem.
When you love the relationship you have you have everything you need!
So do you really want to master your self esteem?
Come along and share your intentions, goals and desires for your relationship with Karen and learn how to get what you want and build the relationship of your dreams.
Here is just a small fraction of what Karen will be sharing during this exciting and fun-packed 1/2-day event…
ARM you with comprehensive knowledge of the fundamentals of a great relationship
EXPOSE how you can correct any weaknesses in your approach to self judgement
TEACH you what you can do to stop rejecting parts of yourself
GET a free copy of my book: Surviving Life Dramas
By the way, each attendee will get a complimentary signed copy of my definitive book, "Surviving Life Dramas. How To Stop Whining And Start Living!"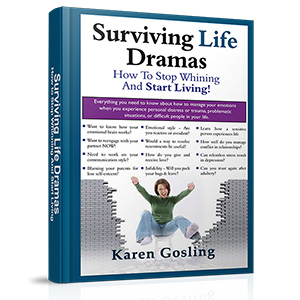 Register Today for Karen's Seminar
MASTERING SELF ESTEEM
Get a firm grasp of proven strategies that can renew and revitalize your relationships while getting your money's worth in new ideas and techniques!

Investment:
AUD $27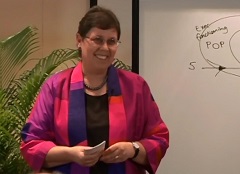 Delivered via
Live Seminar
Please make your payment by clicking the PayPal "Buy Now" button below. Then complete your registration on the next page. On receipt of your 
registration I will email you additional details on the seminar and two Fact Sheets 
– Karen
REGISTRATION: Click the "BUY NOW" button below to pay and register for my exclusive Half-Day Seminar Mastering Self Esteem on April 21, 2018 at the Southport Community Centre, 6 Lawson Street, Southport. And, like I said before, each seminar attendee will get a complimentary copy of my book Surviving Life Dramas (280 pages). Don't miss out – seats are limited. Put this date in your diary and I look forward to seeing you soon – Karen 🙂
PLEASE NOTE: When you click the "BUY NOW" button below, you will be taken to PayPal's secure server where you can pay with your PayPal account OR your Bank Debit OR Credit Card. You will then be redirected to the seminar REGISTRATION PAGE which you must complete to receive confirmation of your booking and access to my FACT SHEETS and bonus videos.