What Does It Mean To Be "Too Sensitive"? Are You Often Overwhelmed With Anxiety?
Do People Accuse You Of Being Highly Sensitive?
Do you experience dealing with anxiety intensely and avoid any situation that may potentially cause an escalation of that feeling?
Have you considered that your avoidant behaviour – the flight response – impacts on others who feel punished and excluded.
Because you have an avoidant emotional style doesn't mean that you have a monopoly on negative emotion.
Learn to be constantly aware of and recognise your nervous arousals when considering the impact of your behaviour on others. 
Your understanding of how you deal with your negative emotion will improve your overall well-being immeasurably.
When I was a child, I could easily pick up on the subtle undercurrents going on in my house. When things did got tense or Mum was cross with one us kids, I felt overwhelmed with the intensity of the negative emotions whirling around me.
If any of that tension or anger were specifically directed at me, I was quick to change my behavior or apologize in order to regain emotional equilibrium. I got my feelings hurt easily and was thrown off-balance when someone would say something biting to me.
If I couldn't do anything to make things right again, I'd find a way to escape — usually through books or listening to music on the radio.
I felt other positive emotions quite deeply as well. I felt intense love for my parents, and would go out of my way to have them not disapprove of me. I became very attached to my friends, enjoyed hugs and physical affection, and was easily touched by moving stories, or music. I could sense someone's mood or needs and instinctively knew how to pull the right groups of people together.
As I grew older and lived on my own, I discovered other interesting sensitivities. I was a highly sensitive person and more sensitive than most of my friends to medication, caffeine, crowded and noisy environments, and making life changes. And my intense feelings around conflict, arguing, and violence never abated.
Have you experienced similar emotions of being overwhelmed, anxious and wanting to be the "peacemaker"? The highly sensitive person usually feels a great deal of anxiety and intense emotion.
That's why I've put together this program … to help you deal with anxiety!
JOIN MY CONVERSATIONS WITH KAREN LIVE SEMINAR DEALING WITH ANXIETY
Attend this seminar and lets talk about the difference between anxiety and sensitivity:
Get to know the significance of your brain and how you can master it

Impact of the stress response on health and the truth about "stress-related illnesses"

Create a new version of yourself; one that you are confidently proud of

Recognise the symptoms of low mood and be able to identify what's causing it

Learn about the benefits of medication and debunk the myths about taking it



Are you feeling overwhelmed and anxious and need a bit of support with your sensitivity? I really would like to help.
Once you choose to manage the anxiety and sensitivity in yourself it means you value who you are and want to feel more confident and connected with people around you. You want to manage your intense emotions so that you can feel more normal instead of being the "odd one out", "the sensitive one" or "the Drama Queen". Get to feel good about yourself for the long term.
When you love the relationship you have you have everything you need!
So do you really want deal with your anxiety?
Come along and share your intentions, goals and desires for you and your relationship with Karen and learn how to get what you want and build the relationship of your dreams.
Here is just a small fraction of what Karen will be sharing during this exciting and fun-packed 1/2-day event…
ARM you with comprehensive knowledge of the fundamentals of a great relationship
EXPOSE how you can correct any weaknesses in your approach to dealing with anxiety
TEACH you what you can do to be comfortable with your sensitivity
GET a free copy of my book: Surviving Life Dramas
By the way, each attendee will get a complimentary signed copy of my definitive book, "Surviving Life Dramas. How To Stop Whining And Start Living!"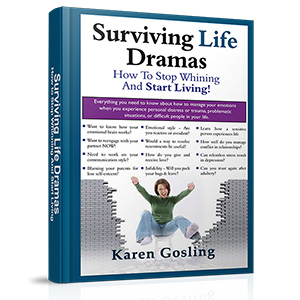 Register Today for Karen's Seminar:
DEALING WITH ANXIETY
Get a firm grasp of proven strategies that can renew and revitalize your relationships while getting your money's worth in new ideas and techniques!

Investment:
AUD $27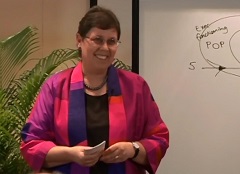 Delivered via
Live Seminar
Please make your payment by clicking the PayPal "Buy Now" button below. Then complete your registration on the next page. On receipt of your 
registration I will email you additional details on the seminar and two Fact Sheets 
– Karen
REGISTRATION: Click the "BUY NOW" button below to pay and register for my exclusive Half-Day Seminar Dealing With Anxiety on May 19, 2018 at the Southport Community Centre, 6 Lawson Street, Southport. And, like I said before, each seminar attendee will get a complimentary copy of my book Surviving Life Dramas (280 pages). Don't miss out – seats are limited. Put this date in your diary and I look forward to seeing you soon – Karen 🙂
PLEASE NOTE: When you click the "BUY NOW" button below, you will be taken to PayPal's secure server where you can pay with your PayPal account OR your Bank Debit OR Credit Card. You will then be redirected to the seminar REGISTRATION PAGE which you must complete to receive confirmation of your booking and access to my FACT SHEETS and bonus videos.