Are You Ready To Stop Feeling Unloved and Misunderstood in Your Marriage?
I Will Show You How To Rebuild A Broken Relationship and Bring Joy Back Into Your Life
There comes a point in every relationship where we can feel a bit "disconnected" and "far off".
We can start thinking that maybe it's time to let go of a relationship.
Maybe you've been really busy with work, kids or other obligations. Maybe you haven't spent that much time together with your partner lately because you've been arguing and you feel kind of emotionally distant.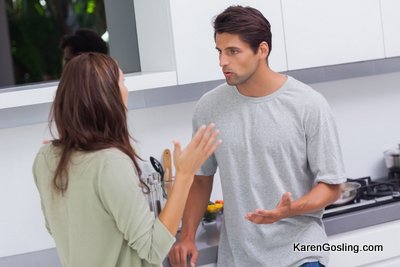 Maybe there's been a crisis or breach of trust – an affair perhaps? Or, maybe you have spent time together, but something has just been feeling "off" and you can't quite put your finger on it.
When this happens, we can find ourselves really questioning the relationship: Are we supposed to be together? Is it always going to be like this from here on out? Can I really commit to this relationship? Should I go, or should I stay?
Though it may seem like things are falling apart in these moments, it's not necessarily the end, but merely a sign to do something different. Perhaps it's time to reevaluate your priorities, your values, or how to manage your negative feelings.
Is Taking Your Disconnected Relationship And Turning It
Into What You Want It To Be Harder Than You Thought…
How would you feel if I could help you nurture intimacy and get what you really want in your relationship while being completely authentic? Want the skills to have the intimate, passionate, peaceful relationship you crave?
Here's something you can do to rebuild your broken relationship and bring back joy into your life – Join my series of eight free webinars called Conversations With Karen where I give you:
the secrets to being in control of your emotions (and resolve your hurt feelings)
good communication techniques – most relationship problems start when there is a "communication problem"
tips on when to speak your partner's love language (we all have a basic need for love, affection, and esteem)
ways to instantly restore peace and calm in your life.
I've discovered that when you love the relationship you have you have everything you need!
TRANSFORM YOUR LIFE
CLOSE THE GAP BETWEEN WHERE YOU ARE TODAY IN YOUR RELATIONSHIP – AND WHERE YOU WANT TO BE
Register For Conversations With Karen Webinars Below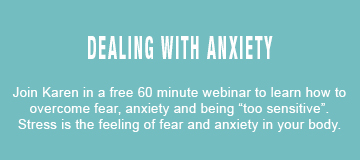 Get to know the significance of your brain
Impact of the stress response on health and well-being
Create a new version of yourself – learn to manage your sensitivity
Recognise the symptoms of low mood that can lead to depression
Learn about the benefits of medication
Access your FREE 60 mins Skype or face-to-face session with Karen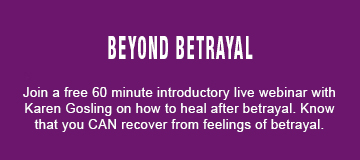 Identify and label your emotions after an experience of betrayal
Restore calm within through real relaxation strategies
Learn strategies to rebuild trust after the event
Resolve resentments by more effective communication
Get help with the question, "Do I go or do I stay?"
Access your FREE 60 mins Skype or face-to-face session with Karen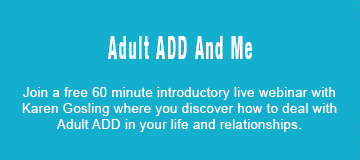 Does your husband drive you to distraction?
Discover the traits of Adult ADD – ADD is not lazy
Help to reduce the amount of chaos in your family life
ADDs know they are different but not why
Learn to cope with (and love!) an ADD spouse
Access your FREE 60 mins Skype or face-to-face session with Karen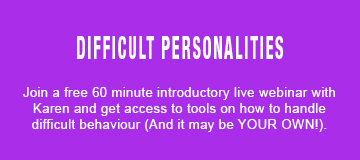 Discover if you really do have an addiction problem
Learn about incompatible personalities
Strategies to cope with a rigid personality
Improve your relationship with a narcissistic boss (it is possible)
Become skilled at managing your anxious and neurotic partner
Access your FREE 60 mins Skype or face-to-face session with Karen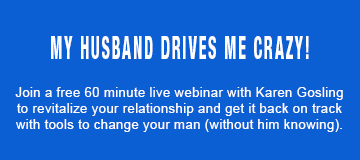 Discover how to get him to listen to you – and respond!
How men really are different to women
Become a partner who understands his passion for sport!
Get him to commit (even though he said he wouldn't)
Enhance your sex life with just a few bits of inside information
Access your FREE 60 mins Skype or face-to-face session with Karen